John Darragh, former Lord Mayor of Dublin, completed a summer and hunting house named Darraghville in 1782. The former name for these lands was Godden, and there may have been an estate here before Darragh bought the lands.
Darraghville is a two-storey over basement, five-bay, Georgian residence, with a projecting semi-hexagonal bay to the west, parapet hipped roof to the east, and treble-hipped "A" roofs to the west. There are Venetian windows with sidelights feature on the two principal façades.
The house retains many of its original features, including decorative plaster ceilings, stone flooring, vaulted basements, and staircases and woodwork of architectural importance. The façade was brickwork, but is now concealed behind painted render. The three-storey extension to the north probably dates from the mid-19th century.
Photographs from the 1870s record the resplendent grandeur of a lower walled garden with an extensive glassed greenhouse, tea-house and an ornamental bridge. The lower garden is now overgrown, but the walls and entrances remain, and it still features a meandering stream, the bridge base and the old tea-house, very much in need of restoration.
A second walled garden beside the house is well maintained. It may have had a tennis court and fruit trees originally, but is now a vegetable patch, fruit trees and flower beds, as well as a small greenhouse.
John Darragh traded as a china and earthenware merchant on Lower Ormond Quay, Dublin. When his widow Mary died in 1799, the Darraghville estate passed to the Newton family, and George Newton built a new house on the site. In 1894, the Holy Faith Sisters bought Darraghville and opened new schools, including a junior boarding school for boys in 1898.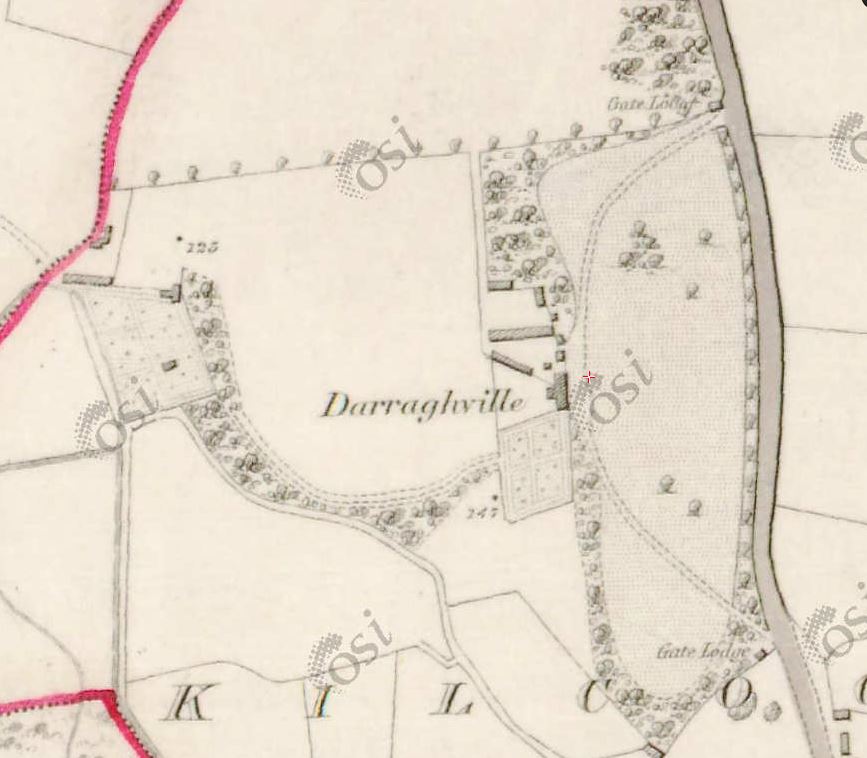 For years the house served as a summer retreat for young postulants travelling from Dublin for a holiday. From 2003-2016 the Luisne Spirituality Centre operated here. The Holy Faith Sisters sold the house in 2017 and it is now a private dwelling.
Of two gate lodges, the north lodge remains while the south lodge was removed to make way for the new church built in 1968.